So I Made a Zine
Check it out! It's called OkStupid and it's about my experiences with online dating.
It's not the first time I've made a zine, but it is the first one that I put a lot of work into and I'm actually pretty proud of it. I made a few in college too with very limited runs. It seems that all my long-form/narrative illustrative artwork has to be about heartbreak and/or emotional upset ¯\_(ツ)_/¯
At any rate, I just wanted to share some of the material and interactions that inspired me to make OkStupid and my process of going about making it.
In the summer of 2015, I decided to join the online dating community for a few reasons: I figured I should actually try and make an effort to date since college had just ended and I had no real luck there, and it would serve as a good distraction for an unsatisfactory day job, and I was lonely (duh). So I signed up and was immediately overwhelmed with messages, pictures, and users visiting my profile, ranging from totally lewd, predatory and horrifying to hilarious, ridiculous, and corny. I think I was only active on the site for 6-8 weeks, but I racked up over 1000 "likes" and nearly 300 messages (see some real winners below).




This was especially funny to me, because real life interactions were not like this for me, and probably isn't for most people. But it was also really depressing. For someone who isn't exactly known for charming the fellas, you would hope that at least a community like this would be easier for get your footing in the dating world. These websites have their advantages in making introductions easier, but it's still a total shitshow like real life. So I continued to feel a lot of pessimism and skepticism and negativity and constantly felt a nauseating combination of helpless, hopeless, and just plain creeped out.
I immediately thought that all of these experiences and feelings would make for great material for some project. Shortly there after, in keeping with my nature, I figured a zine would be the best way to communicate my thoughts and feelings about this stuff.
I pulled from a variety of artists and illustrators for inspiration for this zine. I really love the emotional honesty, sharp wit, and sincerity in the work of artists like Tracey Emin, Louise Bourgeois, Jenny Holzer and Courtney Love's lyrics in her band Hole, but I love the bold and colorful quality of work by illustrators like Mike Perry, Lea Maupetit and Emily Eldridge. So I decided I wanted the zine to have a confessional, honest quality with an exciting bold illustrations.
Above (in order): Tracey Emin, Louise Bourgeois, Jenny Holzer, Emily Eldridge, Mike Perry, Lea Maupetit.
After gathering up my source materials and deciding on the visual direction from other artists, I also looked to my own sketchbooks, which are basically just diaries to me; a visual representation of me crying and complaining about whatever's upsetting me in my life. I knew having my point-of-view prominently displayed would be what makes it a worthwhile project. Here are some spreads from sketchbooks I had kept up until that point: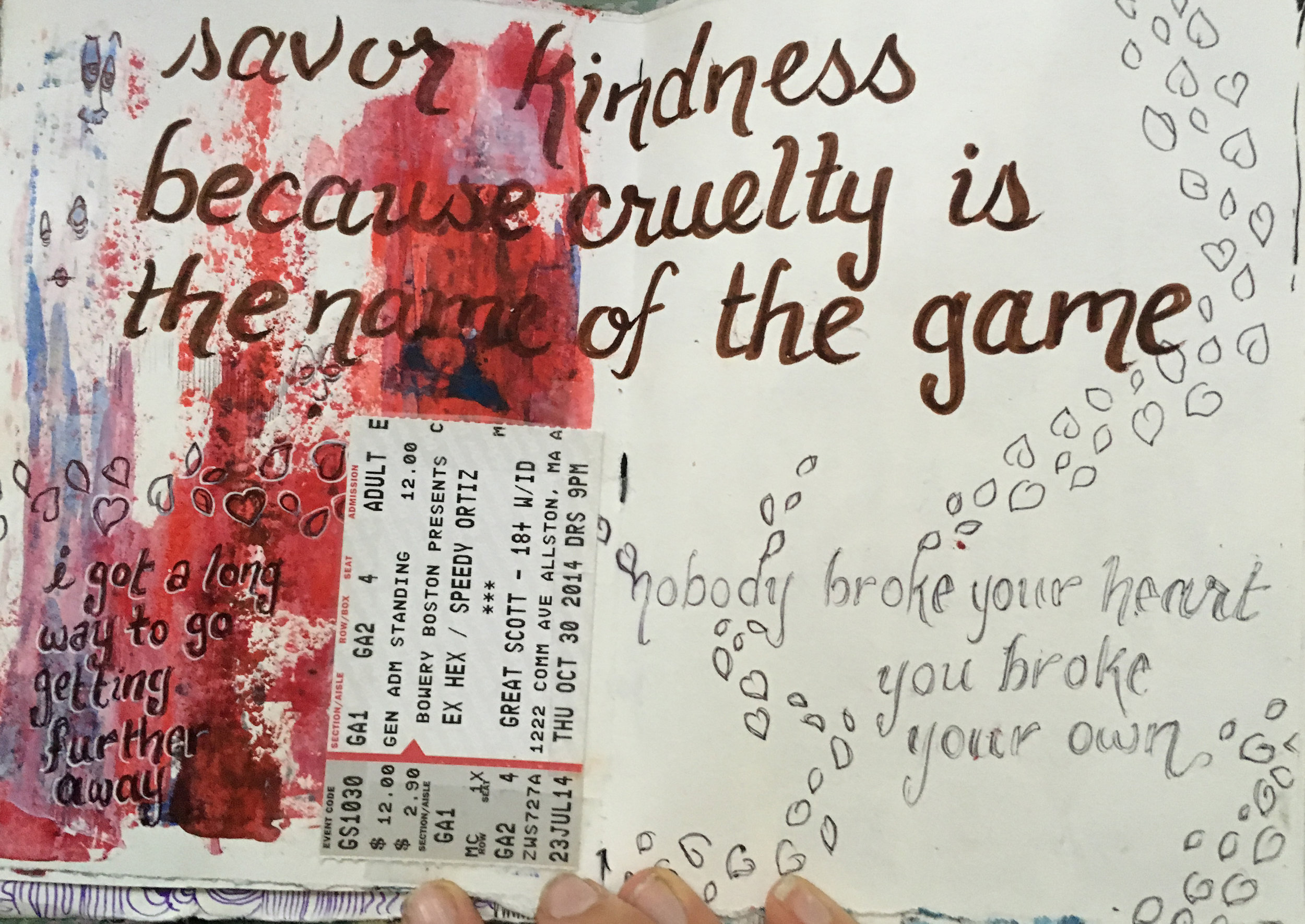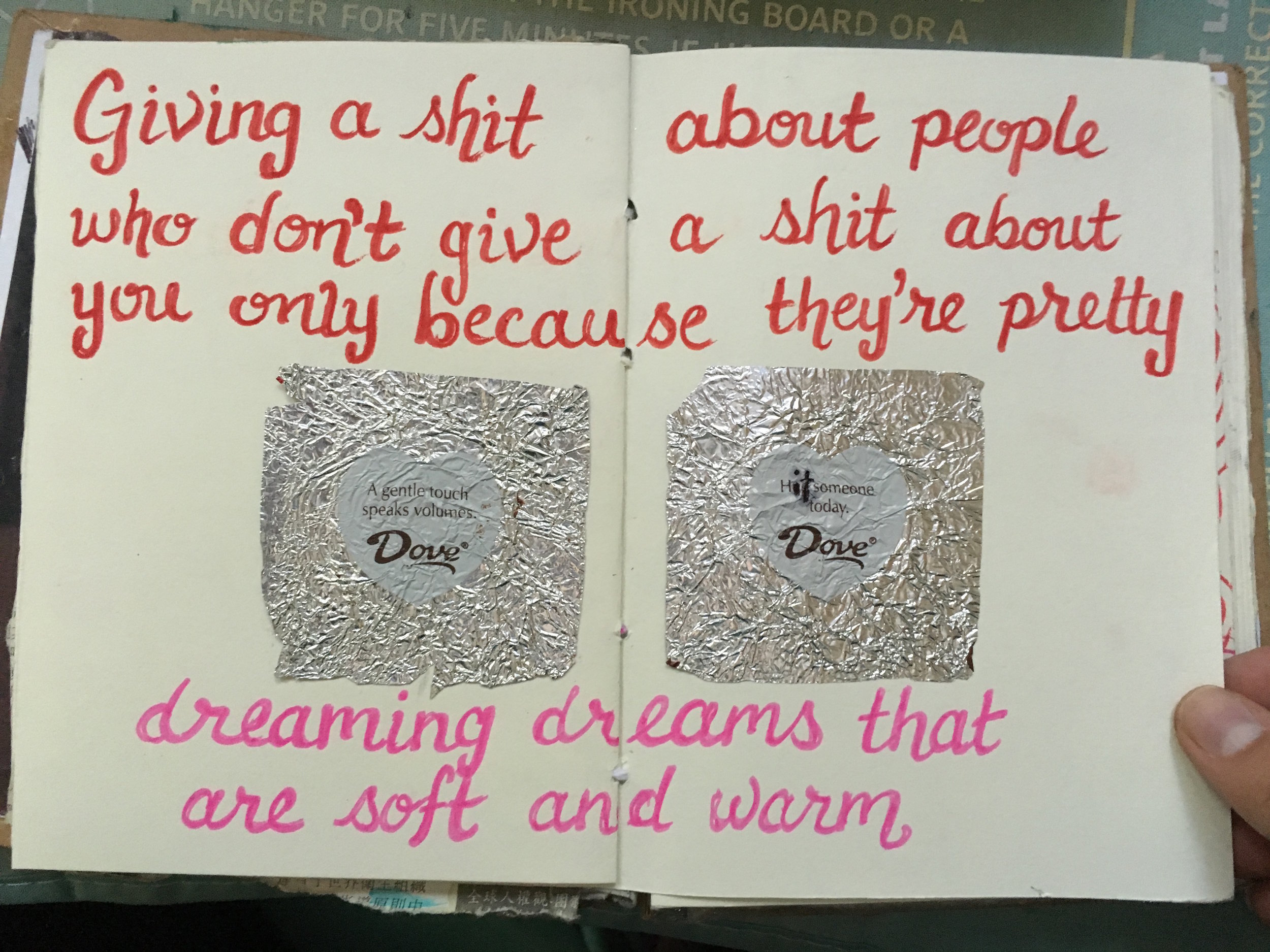 Finally, I got to work! I sketched out how the whole thing would be laid out, used Illustrator to create a rough pattern for the end pages, and got to painting. I primarily used gouache throughout, but I also used a good deal of white gel pen and some pencil touches. I'm always so busy between my day job and my small etsy business, so it ended up taking months to get the 14 pages painted, plus the end pages, plus the front and back cover, but I got it done!
I made a tiny, extremely rough little book dummy with just enough detail just to figure out how I should set up the scanned in paintings to be printed. I print the copies myself with my Epson Artisan 1430 and assemble them myself!
And now it's finally done!! You can check out a selection of photos of it under the Illustration tab on this site, but if you want to see the whole thing, you can buy a copy of your own on Etsy!